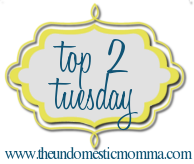 All the cool kids are doing it, so I am too now! Linking up with
The Undomestic Momma
this week to share with you the top two songs on my iPod. iTunes tells me that I have an odd taste in music.
1. John Lennon - Beautiful Boy
This one is self explanatory. I've been singing it to Samuel and I love it.
2. Britney Spears - Till the World Ends
What's funny about this is... this was JUST released, a week or two ago. I've had it on nonstop while I clean, cook, do laundry, dance around the house... etc. It's perfect dance it up, feeling good music. Who doesn't love some Britney Spears?